The FBI Detroit Citizens Academy Alumni Association (FBIDCAAA) and local chapters around the Nation support the mission of the FBI through community outreach programs, awareness initiatives and volunteer service.
​
We support local, state and federal law enforcement through community engagement, education and outreach.
Our relationship as partners with the FBI is formally renewed each calendar year through a Memorandum of Agreement (MOA) with the local FBI Field Office.
All 56 FBI Field Offices have a Citizens Academy community outreach program which builds strong partnerships with community leaders. We are joined by more than 60,000 graduates who serve as community and business leaders and are dedicated in making our neighborhoods safer and serving as volunteers.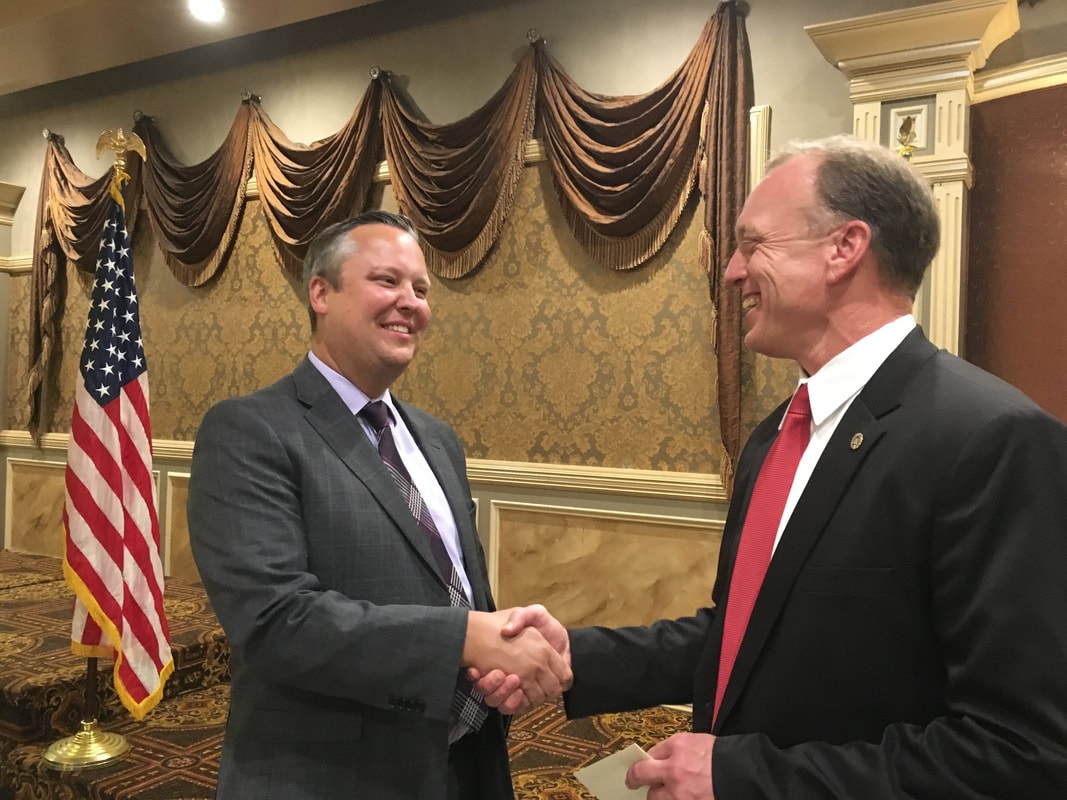 Graduates from the FBI's Citizens Academy program are eligible to join the FBI Detroit Citizens Academy Alumni Association where they continue their relationship with the FBI by giving back through community outreach.
The Board of Directors, elected by the membership, serves to support membership activities and coordinate our functions with the FBI. We are all alumni of the Detroit chapter and serve in our communities
Lawrence F. Kolasa, who we all know as Larry, was born and raised in Detroit. He graduated from the University of Notre Dame, next spending time with the National Security Agency. Achieving the rank of Captain in the United States Airforce, Larry had an opportunity to serve this country both in Korea and Vietnam. Settling into civilian life, he continues to service the people of this country by assisting them with there retirement goals as a Financial Planner.
Larry has dedicated his life to helping others by donating his time serving as President at the MDRT foundation, founding the NSDA (National Spasmodic Dysphonia Association), along with multiple therapy dog associates. Currently he is the President of the FBIDCAAA. He and His wife of over 50 years continue to reside in Michigan.
Gerald S. Eggart, whom prefers to be called Gerry, achieved a degree in 1982 in IT, specifically in Business Systems Analysis and Design. Spending the next 30+ years of his career in the installation, configuring and as a software developer for large corporate concerns. Proficient in n-tier design for systems that handle terabytes of data, he next added an IT security degree with a specialization in Cyber Defense in 2019. Currently his talents are being leverage in the health insurance industry and as a volunteer for both the Gift of Life and FBIDCAAA.
Dr. Shawny DeBerry is a strategic leader with over 25 years experience in the government sector. She is currently the Director of Administration for the Wayne County Department of Public Services as well as an associate professor at the University of Phoenix.
Dr. DeBerry has her MBA from the University of Detroit Mercy, and a Ph.D. from Capella University. She is also a published author with the Journal of Academy of Business and Economics. Dr. DeBerry has used her finance, project management, and organizational skills in serving the constituents of the the Horatio Williams Foundation (Board Chair) and the Vanguard Community Development Corporation (Board Treasurer), and also has several professional affiliations.
Ray is a graduate of the 2019 Detroit Field Office Citizens Academy. He earned his graduate degrees in labor relations from Michigan State University and a law degree from Wayne State University. In four decades practicing labor relations law he represented numerous companies in the transportation sector.
His volunteer experience includes service as board member and chair of the board of trustees of a major Michigan hospital system as well as a mentoring at-risk grade school students. His current interest involves work as a professional trustee on a labor and management created and administered health care fund. He joined the Detroit Alumni Board in January 2021.
Hassen, an active father of 4 resides in southeastern Michigan with his wife. As a property owner, he spends much of his day directing the businesses he has established.
This local entrepreneur has partnered with multiple community and volunteers his time and expertise as a Tax Increment Finance Authority (TIFA) board member for the City of Warren, Board member for the Downtown Development Authority for the city of Centerline.
He is an active member of the Fraternal Order of Police
Holding a MBA from Central Michigan University Jay's career leveraged his skills for the automotive and manufacturing industries in Michigan. He continues to support southeastern Michigan through multiple volunteer efforts which have included the Habitat for Humanity, Oakland Count Mentors where he received recognition as a Mentor of the Year, Goodfellows, the Senior Men's Club and many others. He has served as the Board of Directors President for the Birmingham Senior Center

Hassan is a local business owner donating his time toward the betterment of Wayne county. He is an active Wayne County Liaison also serving as a Wayne County Commander, reserve division.